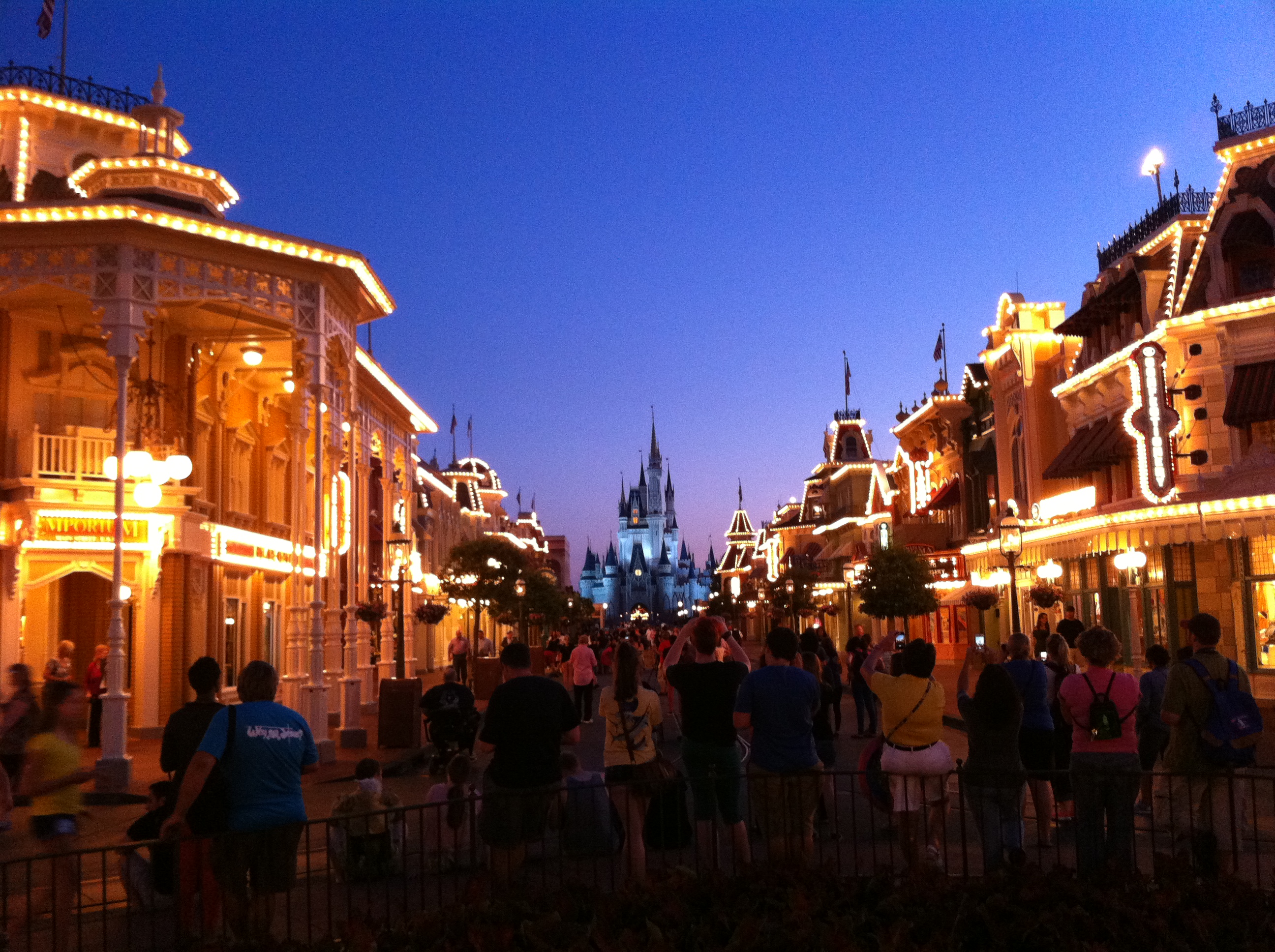 On May 24, Disney held an "All-Nighter" event at its parks. From six in the morning on Friday until six in the morning on Saturday, the Magic Kingdom, Disneyland Park, and Disney California Adventure would be open. Twenty-four hours, straight through!
And of course Jill and I had to be there.
There's only ever been one other event like this, "One More Disney Day" over Leap Day last year. Jill and I were at that one, too. We didn't stay the complete time (we're not that crazy), but we did go for a few hours that evening, and we were planning the same this time around … except then Jill signed us up for the Disney Parks Blog event.
So we got up at 2:45 on Friday morning to get ready. We were at Magic Kingdom by 4:30, where they let us through the turnstiles and gave us each a button and Mike Wazowski sunglasses, and we gathered in front of the train station. At six o'clock (just before sunrise) was the usual daily opening ceremony, joined by Mike and Sulley in their Monsters University clothes. Then everyone made a mad rush for the Main Street shops. We got a pair of "DisneyParks Monstrous Summer All-Nighter" embroidered ear hats, a pair of furry blue Sulley horned ear hats, and a pair of "24 Hours It's Eye Mazing! I was there and did not blink an eye!" tee shirts.
Following that was a monstrous donut breakfast at the Pecos Bill restaurant in Frontierland; they had free blue-and-green-glazed cake donuts and Sulley-Ade (a blue drink that tasted like pineapple). Sulley was there for photos, but the real highlight was that they were taking everyone's photo one-by-one so they could give us Monsters University student IDs!
We had a little time in the schedule after that. We shopped for some pins, we traded some Vinylmations, we explored the new Pirates of the Caribbean game (same technology as Sorcerers of the Magic Kingdom) but we didn't have time to play it, because we had to re-group at the Frontierland parade gate. They brought us backstage and loaded us into buses and brought us to the Downtown Disney AMC Theatre where they showed us a free advance screening of Monsters University. Three weeks before the general release! Security was very tight; they checked all cell phones and then wanded everyone on the way in to the seats. There were a few Monsters Inc. trivia questions (we weren't picked), there was a request not to go spoil the film for anyone else in the next three weeks, there were some new trailers for Lone Ranger and for Planes, then the film.
In short: I thought it was excellent. Well-written, a lot of fun. Jill and I will go back and see it again.
After the movie, they handed out the laminated Monsters University ID cards that they'd made for us, and they also gave us some more swag (such as some blue popcorn, a Sulley Popcorn Vinylmation figure, and a "Doors of the Magic Kingdom" poster), and then it was time for Jill and I to get to work! I'd told my team I would be in around lunchtime. I actually rolled in closer to two o'clock. Whups.
. o O o .
And then, the next morning, we went to the park before dawn again.
We actually were holding up fairly well. We had gone to bed around 9pm Thursday and got up at 2:45 Friday morning, so that's a fair amount of sleep; and then we had about the same amount on Friday night. We got up at three o'clock Saturday morning, threw our bags together, and returned to the Magic Kingdom to see the end of the event.
This was as close to a zombie apocalypse as I'd ever like to get: exhausted people were staggering in slow-motion out of the park. A deejay was playing dance music in Town Square, but nobody had the energy to dance. The place was largely empty. Jill and I went on Buzz Lightyear's Space Ranger Spin (though I was so tired I couldn't hit anything), and we rode the Peoplemover (Space Mountain was closed but all the work lights were on inside — it's always kind of scary when you can see the track and you realize how close you actually come to having your head and arms chopped off by some of the low clearances in that ride!). And we did Monsters Inc. Laugh Floor, which was as corny as it always is. (One joke I'll use when I do my puppeteering: "I'm majoring in comedy! The dean says my grades are a joke!")
We returned to the castle forecourt, where some characters (we saw Goofy. Pluto, and Stitch) were dancing on a single parade float. The deejay encouraged everyone to follow the float up Main Street for a surprise (which turned out to be Mickey and Minnie in their pajamas), but Jill and I hung back to take some photos of the castle, of the Partners statue, and of dawn breaking over Tomorrowland.
As we left the park, we enjoyed the rarely-seen Kiss Goodnight (light show on the castle)… and then we came home, and slept for the rest of the day.