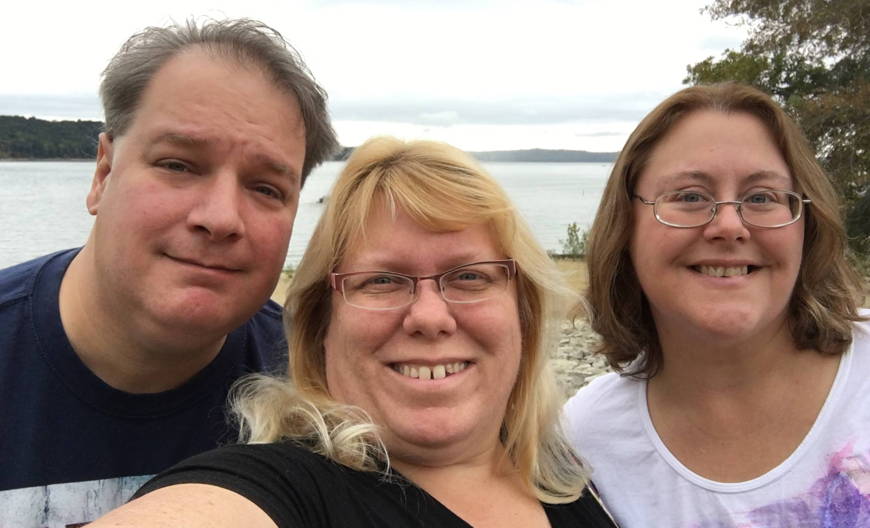 It's nice to go offline for a while – but not too long a while.
Video games these days give me a lot to do. Jill and Eve and I play Guild Wars 2 together several times a week; it's got daily challenges (harvest 4 plants in Kryta, finish a level 10 fractal dungeon, find a scenic vista in the Shiverpeaks, &c.) and there are bonus rewards for completing these challenges, and then that requires some housekeeping with our game inventories to find enough space to store all of the rewards. And I also play some Minecraft, which is all about exploring deep caves, but to get into the caves I need some torches and pickaxes, and to craft these items requires that I harvest some wood and some iron and some coal and build an oven to smelt the iron into ingots … it's a lot to keep up with, really!
I feel like I've been approaching life in the same task-based way lately. At work I've got my queue of tickets to work on, and if I can catch up with the number that were opened then I can move on to regression-testing our features or upgrading our build tools or organizing our brown-bag knowledge-sharing lunches. And then when I get home there's a dog to walk and cats to feed and dishes and clothes to wash and bills to pay, and once those are taken care of then there are emails from people who need help with their computers. Every day a fresh set of challenges to complete, and I go a little crazy trying to catch up with everything when there's so much to do; so I'm kind of in a constant state of slight craziness, and I'm always left feeling like there's something I'm not doing.
A little time away helps to break the routine. Jill and Eve were going to run the "Amish Country" half-marathon (Adams County, Ohio) this weekend, so I decided to come with Jill so we could visit with Eve for a while. Jill hurt her heel at another half-marathon a few weeks ago so they decided not to run the race – this means that we got a nice long weekend at Eve's home in Bloomington.
And, of course, my body decided that this would be the perfect time to get sick.
Thursday
I could feel myself coming down with a sore throat on Thursday morning. By the time I was making sure I had my vacation autoreply set up and was apologizing to my coworkers for ducking out early, I knew I had a temperature. Great.
The flight from Orlando to Indianapolis was about two hours long, but it was packed full. Jill took care of me, though, and we made it okay and were met by Eve, who whisked us back to her home (about an hour's drive from the airport) with a quick stop at Sonic for some fast-food dinner. My first observation about Bloomington: it's dark there at night.
Eve has a comfortable home, with two cats (Toc and Cali) and enough bedrooms for me to have one of my own so I wouldn't infect Jill.
Friday
We started the day with a mission. This was iPhone 6S launch day! We got up early and headed for the Fashion Mall at Keystone Crossing (an hour and a half away in Indianapolis), where Jill had an appointment already set up. She promptly purchased her new Rose Gold iPhone 6S 128GB, we stopped at See's Candies to buy a few chocolate truffles, we snapped photos in front of the Tesla store, then we had lunch at the Cheesecake Factory.
Jill and Eve left to go visit some craft stores, and I stayed behind to nap. (The cats helped.) When they got home they gave me two cute little Minecraft blind-box figures: a creeper and a chicken.
For dinner we went to a local restaurant named Janko's Little Zagreb. They're famous for their steaks – and I could tell why; they're huge and absolutely delicious. And because it was right next to the Indiana University campus, it was packed with IU logos on the walls and the floor and the customers.
And after dinner we all played some Guild Wars at Eve's house.
Saturday
Finally, a chance to sleep in! When we finally got ourselves put together around mid-morning, we went to the local farmer's market, which was full of tomatoes and peppers and honey and musicians. Lunch was at "Bub's Burgers", home of the Ugly Burger (we each had a half-pound "not so ugly" and milkshakes).
For dinner we finished off the leftover steaks from the previous evening, along with corn, potatoes, and baguette bread from the farmer's market.
Sunday
Another day of sleeping in. I'm still definitely sick, but by now I think my fever's gone.
Eve drove us to Lake Monroe, which is a beautiful, peaceful park in the middle of the forest. The learning center there was full of taxidermied animals. That creeped me out a little.
She then took us on a drive through Indiana University campus and pointed out all the buildings that were meaningful to her. I really love all the 1960s architecture on campus, as well as the 1970s-style houses surrounding it. We had a late lunch at "FARMbloomington", a farm-to-table restaurant with something of a Bohemian vibe to it because of its creative menu and its setup in what looks to have been a 1950s store. A few doors down was a tabletop gaming store into which we poked our noses.
On the way home we visited a secondhand videogame store that had a great selection of old consoles and games, including a decent number of Atari 2600 cartridges and even four Odyssey 2 carts. (I did chide them for not having any Intellivision games, though.) We also visited Kroger for a few groceries (I napped in the car while Eve and Jill ran in).
That afternoon, Eve showed us her garden: about 20'x12′ in her backyard, where unharvested tomatoes have become "volunteer tomatoes" that grew into new tomato plants, until the whole thing's a mess of tomato plants and jalapeno plants and green pepper plants. We plucked any vegetables we found that looked healthy.
We had sandwiches for dinner, and Jill took some glamour photos of Cali cat, and we played some more Guild Wars. And then I introduced Eve to Minecraft. She was immediately hooked – but I discovered that her playing style is very different from mine. My style is that I rush in and quickly find the boundaries of a cavern and fill it with torches and make sure there's nothing around that could kill me. Her style is that she wants to completely tidy up every part of the cave that she finds – make a clean staircase so that it's easy to use, mine the coal and iron as soon as she finds it, block off dead ends so they don't confuse her later. The problem we had is that while she's polishing every inch of the cave as she finds it, monsters keep wandering out of the darkness and giving her a hard time!
This was the night of the lunar eclipse. We went outside frequently to gaze at it, and Jill got some good photos of it with her super-powered camera, though she hadn't brought her tripod with her. (We'll remember to bring it for the next lunar eclipse.)
Monday
Another day of sleeping in. I could really get used to this.
Breakfast was Pillsbury orange-glazed rolls, during which I helped Eve update her iPhone to iOS 9. Then there was more Minecraft (she bought her own copy, and we played together on her LAN).
We went to Walmart for a few things. I bought another copy of Minecraft, for Jill, so now all three of us can play together! And Jill found a Minecraft baby cow plush, so I bought it for Eve to commemorate her new addiction. We got a very late lunch of barbecued brisket, pulled pork, pulled chicken, and rib tips from Carson's Barbecue and brought it back to the house.
And now I'm writing this, and occasionally asking the two of them for help remembering what we did.
Afterward
We fly home tomorrow morning. I'm planning on working as soon as we get home, though I'm still not feeling so great, so I'll probably work from home.
Saturday morning is the town's semiannual yard sale day, so I might prepare for it and put a table at the end of the driveway. Then on Sunday we have tickets to see the movie "Iron Giant" during its special two-day return to theaters. And that brings us into October already!
I never remember the slower vacation pace for very long after I get back from vacation. I really need to do a better job of slowing down, of leaving things undone and being okay with that.