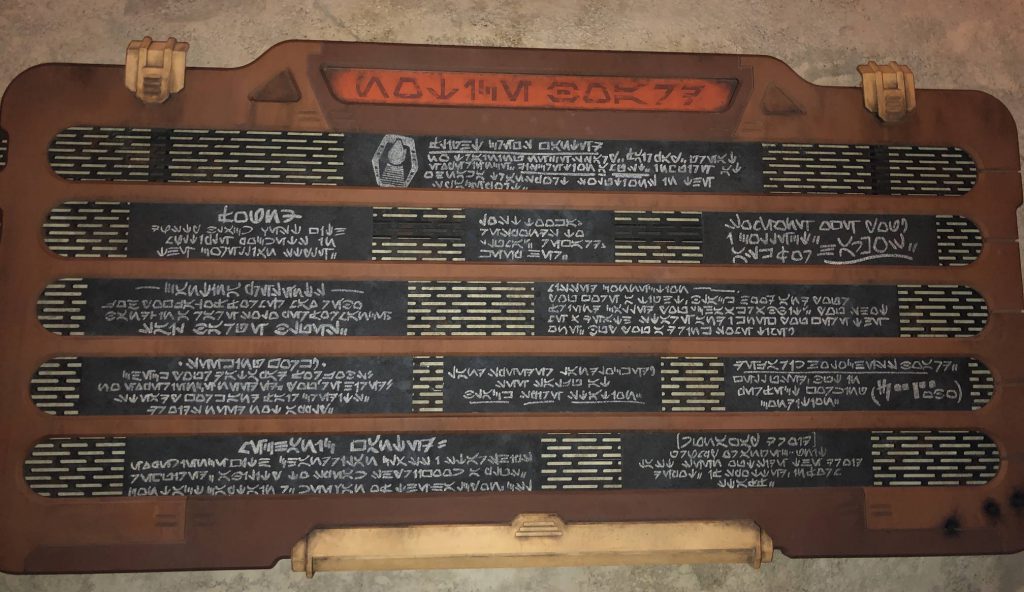 In Star Wars: Galaxy's Edge at Disneyland and Walt Disney World, there's a notice board with several messages on it, written in Aurebesh.
For fun, I translated it!
Notice Board

FLIGHT CREWS WANTED
No training necessary, fair pay, great
experience, DISCRETION A MUST. Inquire at
Ohnaka Transport Solutions in the
spaceport.

Found
Dusty black vest with
multiple pockets in
the Corellian style.

Lost Tooka
Responds to
"Luma". Reward:
Keep her.

Someone owe you?
I collect.
Ask for HARKOS.

-- Cantina Presents --
Joh Yowza (of former Max Rebo
band) in a rare solo performance!
Sail Barge Blues.

Missed Connection --___
You wore a tight, black hood and your
friend called you "Chaakrabbit". You shot
me a death stare and I knew you were the
one. Buy you a drink some time?

* Seeking Work? *
Check your datapad for jobs.
No experience needed. You're hired!
Steady work and fair credits.
Droids need not apply.

Land speeder landlocked?
See Salju at
BLACK SPIRE STATION.

DEJARIK HOLOCHESS BOARD.
Well used, but in
perfect working
condition.
($140 OBO)

Mechanic Wanted!
Experience with Chandrilan class 1 starships
required. Ability to speak Shyriiwook a plus.
Contact Captain R. Keevan of the Halcyon, CSL

[Runaway Droid]
Grumpy orange C1 unit
last seen outside the droid
depot. If spotted, inform
staff.
Many of these references can be looked up in the Wookieepedia.